iOS 12 verscheen vorige maand en zit boordevol met nieuwe functies. Nieuwigheden die je onmogelijk over het hoofd kunt zien, zoals de nieuwe app Meten en instellingen voor het beperken van je Schermtijd. Maar er zijn nog talloze kleine veranderingen die je niet meteen ziet … En dit is er eentje om in te lijsten – je hebt er wel een nieuwere iPhone voor nodig.
Ontdek het best bewaarde iOS 12-geheim
Pak je iPhone X of XS (Max) er maar bij. Open de app Berichten en tik op het aapje onderin om een Animoji te maken. Veeg net zolang totdat je de eenhoorn in beeld krijgt – is-ie niet geweldig? Kijk vervolgens om je heen om te checken of je niet wordt aangestaard door nieuwsgierige collega's. Duw op de opnameknop.
Knipoog nu naar het scherm en je ziet je eenhoorn-twin hetzelfde doen. En … steek je tong uit. De eenhoorn zal hetzelfde doen en onthult daarmee het grootste iOS 12-geheim. Je ziet het goed:
De iPhone 14 Pro nu tot €10 korting per maand!
Heb je al internet van KPN thuis? Profiteer dan van extra voordelen
Bekijk actie
De eenhoorn-tong GLITTERT.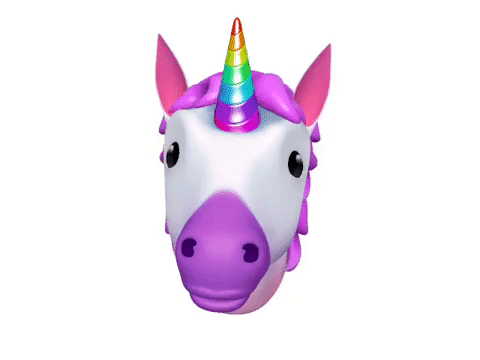 Is het niet fantastisch? Apple's oog voor detail is op zijn zachtst gezegd fenomenaal en dit is weer een van de vele subtiele designgrapjes van Apple.
Tong- en knipoogdetectie
De Animoji's werden vorig jaar tegelijk met de iPhone X onthuld – het zijn 3D emoji's die je gezichtsuitdrukking tot in detail nabootsen. Met iOS 12 ondersteunen de Animoji's ook knipoog- en tongdetectie. Bovendien zijn er nieuwe Animoji's bij gekomen. Je kunt voortaan ook kiezen uit een tyrannosaurus, een spook, een koala en een tijger. In plaats van tien seconden, mag je filmpje tegenwoordig een halve minuut duren.
Daarnaast zijn er in iOS 12 ook Memoji's: die werken precies hetzelfde als de Animoji, maar het verschil is dat ze ook qua uiterlijk heel veel op je lijken. Hoe je je eigen Memoji maakt, lees je ook onze workshop Maak je eigen memoji in iOS 12.
Meer weten over de nieuwe functies van het besturingssysteem? Lees ook ons dossier over iOS 12.