Houd jij aan het einde van je duim nog altijd een stukje iPhone over? Overstrek je je rechterduim om bij de Q te kunnen komen? iOS 11 biedt de oplossing: in plaats van een ónhandig, krijg je een éénhandig toetsenbord! Het toetsenbord schuift een stukje naar rechts (of naar links, als je linkshandig bent) en je kunt overal gemakkelijk bij.
iOS 11: typen met één hand op de iPhone
Je haalt het eenhandige toetsenbord heel eenvoudig naar voren.
De iPhone 14 Pro nu tot €10 korting per maand!
Heb je al internet van KPN thuis? Profiteer dan van extra voordelen
Bekijk actie
Houd je vinger even op de knop met de smiley.
Kies of je toetsenbord een stukje naar rechts of juist naar links moet opschuiven.
Het toetsenbord wordt zo een stuk makkelijker hanteerbaar!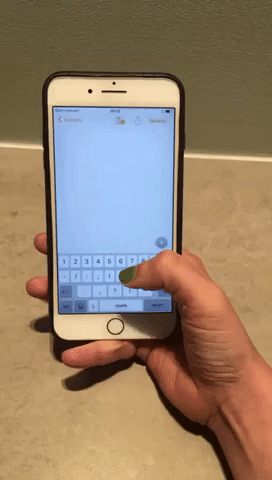 Wekelijks Apple-nieuws in je mail
Ontvang wekelijks het opvallendste Apple-nieuws, aanbiedingen en de handigste tips voor je iPhone, iPad en Mac!
Je aanmelding is helaas niet gelukt. Probeer het later nog eens.