iOS 11 heeft veel mooie nieuwe functies, maar het kan zijn dat je er niet helemaal van gecharmeerd bent. Een nieuw besturingssysteem brengt altijd nieuwe problemen met zich mee, ondanks dat het uitgebreid getest is. Soms gaat het echt om foutjes, soms ook om gekke beslissingen van Apple. Dit zijn een aantal veelgehoorde iOS 11 problemen – en in sommige gevallen ook de oplossingen.
1. Knoppen kwijt in het Bedieningspaneel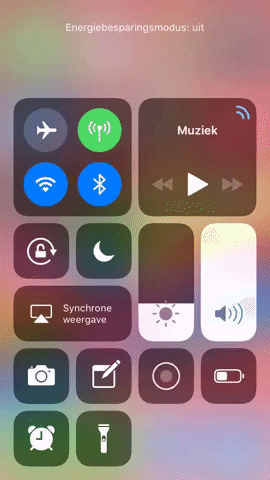 Het nieuwe Bedieningspaneel is op zich een verbetering omdat je het veel beter kunt personaliseren met allerlei nieuwe regelaars. Maar misschien mis je juist wat oude vertrouwde knoppen, en die tref je ook niet tussen de 17 nieuwe regelaars. Die staan nu enigszins verdekt opgesteld. Night Shift bijvoorbeeld, ontdek je door langer of harder te duwen op de slider met het zonnetje. Voor AirDrop doe je hetzelfde met het blok linksboven (waarin onder meer het wifi-icoon staat).
De iPhone 14 Pro nu tot €10 korting per maand!
Heb je al internet van KPN thuis? Profiteer dan van extra voordelen
Bekijk actie
2. Sommige apps doen het niet meer
Apple ondersteunt met iOS 11 geen 32-bit apps meer, deze zijn verouderd en vertragen je telefoon. Open je zo'n app, dan krijg je daarvan een melding. Een overzicht van de verouderde apps vind je via 'Instellingen>Algemeen>Info>Apps'. Je kunt niets doen om de app weer aan de praat te krijgen; hooguit de ontwikkelaar ervan via de App Store vragen om een update.
3. Mail werkt niet met Outlook.com en Exchange
Mail ontvangen via deze diensten gaat nog wel vlekkeloos, maar versturen werkt niet. Dan verschijnt er een foutmelding. Apple en Microsoft zoeken samen naar een oplossing, daarvoor moeten we wel wachten op een iOS 11-update. Tot die tijd is de Outlook-app een alternatief.
4. Augmented Reality werkt niet
Augmented Reality vormt een van de leukste nieuwe iOS 11-aspecten. Maar op sommige oudere toestellen werkt het niet, ondanks dat je ze nog wel kunt updaten naar iOS 11. Op de iPhone 5s en de 6 (Plus) kun je er geen gebruik van maken, omdat de processor er te traag voor is. Sorry, je moet een andere iPhone kopen.
5. Wifi en bluetooth niet te deactiveren via het Bedieningspaneel
In het Bedieningspaneel zitten voortaan knoppen waarmee je in één keer wifi of bluetooth uitschakelt, Althans: daar lijkt het op. Maar in feite verbreek je alleen de verbinding met het netwerk waarmee je nu een connectie hebt. De schakelaar achter 'Instellingen>Wifi' blijft op groen staan en dat geldt ook voor bluetooth. Wil je het echt helemaal uitschakelen, dan moet je alsnog naar de Instellingen.
6. Mijn Berichten staan niet in iCloud
Dat is iets wat Apple ons wel beloofde tijdens de aankondiging van iOS 11 in de WWDC-keynote: je zou je berichten kunnen syncen in iCloud. Het zat ook in eerdere testversies, maar heeft de definitieve versie van iOS 11 niet gehaald. Misschien volgt het nog in een update.
Tegen welke iOS 11 problemen loop jij aan?